Traveling to Spain
Since we would be spending a lot of time in airports, I splurged on a pair of Admirals Club passes

bought on Ebay for $35. Each is good for 1 person plus kids, for as many airports as you will be visiting that day. American Airlines sells them at the door for $50 per pass. In retrospect, I don't think I would pay more than $5 for the privilege of sitting in an Admirals Club unless I were by myself and had work to do. We almost missed one flight, and the time when we were stuck hours at the airport, we had to be at the gate because we didn't know when our flight was leaving.
Contents:
Introduction
Day 1:
Flight to Spain and first evening in Seville
Day 2:
Sunday in Seville
Day 3:
Monday at the Alcazar
DFW
After being the only family in the San Diego admirals' club, we arrived at the gate to find that we were the last onboard our flight to Dallas. My wife and kids call that "late" but I call it "perfect timing" since we had assigned seats. The flight was uneventful.
We had a scheduled 1.5 hour layover at DFW, during which time we needed to get from Terminal B to Terminal D. No problem on the Skytram or whatever it is called.
We boarded a little late due to maintenance. We all took some benadryl to try to get us to sleep on the plane, since it was about 6 pm.
Once we were about to depart, the captain made an announcement that one of the safety checks failed and he couldn't fly the plane. I was on vacation and fairly relaxed, and thought that these are probably the kinds of things that they don't bother with on Air Asia, so I was glad he was forthcoming with us. We exited the plane and went back to the terminal, where we waited.
About an hour later, they announced that they could use a plane that had just arrived from London, once it was cleaned. Great.
By 9pm it seemed like it was taking an awfully long time to clean a plane. It seems that the London plane had its own set of maintenance issues. We were getting hungry so my wife Nancy got the gate agents to give everyone a dinner credit. Nancy chose something she hadn't had since she was a kid in Houston, Frito Pie. My daughter Sammi also got one but didn't like it at all. I think my son Levi got a grilled cheese sandwich. I went for a very non-traditional banh mi sandwich, which tasted like no other banh mi I'd ever had, but it was fairly satisfying. I tasted the Frito pie and realized immediately that I could eat the entire pan if it was given to me. It was basically fritos smothered by Texas style chili (with bbq seasoning) and cheddar cheese.
We waited there until 10:15 and it looked like they were going to cancel altogether, but then they made an announcement that the plane was ready but they had to board the entire plane and leave within 15 minutes, otherwise the pilot would have gone beyond his legal daily flight time and/or they would have missed their runway slot, or some other reason. I've never seen 300 people cooperate so well to get the privilege of being stuffed into a tin can together. The second plane was exactly like the first one, a 767 of early 1990s vintage. American airlines is advertising they are buying a new plane every week, but i think it will be a while before their fleet is replaced.
I wasn't expecting much more than transportation, given that we were in row 40, wiping up the rear of the coach cabin. I received what I expected - basic transportation, along with a complimentary aching tailbone. Still, for 40,000 frequent flier miles for the round trip, I felt pretty blessed. I got a couple hours of sleep and the kids got a few more, which is important. On transatlantic flights, AA still gives 2 meals and free cups of wine.
Madrid Barajas
Madrid Barajas Airport, Terminal 4 (pic from gomadrid.com).


We arrived and walked

down the upper corridor for 1/2 mile
before I found a restroom.

Departure gates are on the bottom floor.
As we touched down in Madrid, all I could think of was I needed to get off the plane and get to a restroom. Alas, we had to walk a half mile corridor in the airport before we found one. The airport itself has beautiful architecture, but it was hard to appreciate at that moment. We had hoped to spend the afternoon in Madrid, but since our flight was 4 hours late, we didn't have time to leave the airport so we just waited the 2.5 hours for our next flight.
Madrid Barajas Airport, Terminal 4.
This is the route we had to take to get from one flight to the next.
Madrid airport is not like any that I've been in. They take the concept of captive audience to the next level, as they literally make you walk through the aisles of a department store to get to the waiting area for your gate. They even have arrival and departure information boards right in the duty free shopping area.
That said, if you were going to pick an airport where you had to wait for a long time, this isn't a bad one. There are several restaurants and cafes to choose from, and a comfortable waiting area. One thing I wasn't crazy about is that there is wi-fi but it is only free for 30 minutes. More than that, you have to pay.
They only announced the gate about an hour before the flight was scheduled to leave. I now realize this is standard in Europe, having since taken 3 flights, but we didn't know that at the time, and we were a little worried that we didn't know which gate to go to.
When we arrived in Seville, we were relieved to see that our bags made it, as we weren't really sure if we missed a place in Madrid to receive them and pass through customs. We took a taxi to our
apartment near the University of Seville
. It was 29 euros. We could have saved about 10 euros by taking the EA airport express bus that supposedly let us off the same place, but it wasn't worth the trouble or variance.
Settling In
The cab driver dropped us off in front of the Tea & Coffee cafe, and I was a little confused. I had a hard time getting my phone on but once I did, I used Whats App to get in touch with Ken to tell him to call our host and let him know to find us at the cafe, since I couldn't find any building addresses or entrances.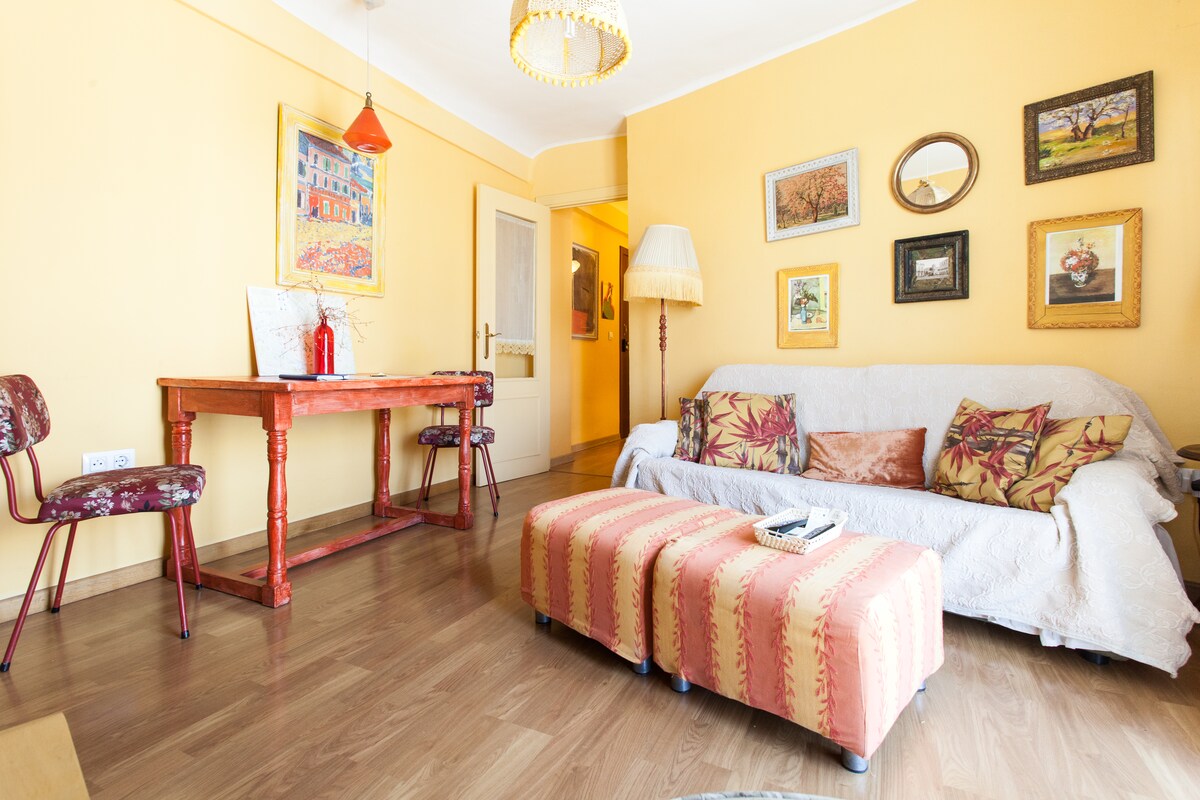 Our apartment, from the airbnb page.
The wide-angle shot makes it look bigger than it is, but it is a lovely apt.
Our host, Carlos, showed up about 10 minutes later, and it turned out we were in the right place, as
the building entrance was about 20 feet from where we were standing. He is a great host and speaks perfect English.
The apartment is lovely, a little smaller than I had expected from the photos, but perfect for us. The hosts stocked it with milk, coffee, and a couple other niceties. The shower is strong and hot.
Dinner
It being only 8 pm, we met up with our friends Ken and Martha and their daughter Abi at a location Ken sent me,
Prado San Sebastian
. It was great to see them, and we walked to the Alcazar and through the Juderia, the old Jewish Quarter. It was somewhat dark, but the city was well-lit, and it was already obvious that Sevilla is gorgeous. We were hungry, so we sat down at a cozy tapas restaurant,
Catalina
, for dinner. Unlike the U.S., it is perfectly acceptable to bring kids into a restaurant or bar in Spain. In fact, there isn't really much of a difference there between a bar and a restaurant, since all bars seem to serve some food.
I demanded Sangria, so we ordered a liter of it to share, but nobody else really drank any of it. No worries, as it was glorious, smooth as silk and seasoned with cinnamon, and I wasn't driving.
Sorry folks, I don't photograph my food or beverages, mainly because I am too hungry to think about shlepping out the camera until the plate is empty, at which point I couldn't care less, even if there were anything left to see.
Afterwards, we went to a stand near their airbnb apartment that sells churros and chocolate. Not a controversial decision. It was a chilly evening, in the high 40s or low 50s, but that didn't really bother anyone.
We walked over to the apartment they were renting for the weekend, overlooking the river in
Triana
. The location was better than ours but the apartment wasn't nearly as nice, and had a mildewy odor. We were tired and didn't really know our way around, so we took a taxi back to our apartment, and were just about ready for bed when we should have been, as it was about 1:00 a.m., a normal family bedtime in Spain.
The Finagle
Apartment
It isn't really a finagle at all, it's just renting an apartment on airbnb.com. I had to use cash, not points, but in my limited experience, European hotels at my price point are uniformly terrible. We wanted space for the kids and a kitchen.
This great apartment
just outside the
San Bernardo
train station cost us about $100 a night for 4 nights all in, minus a 20% discount that airbnb offered me for a first-time booking.
Click here for a discount code
, I think $25, if you are new to airbnb.com. (Full disclosure: I may also get a discount credit if you book using the link. If you find a better discount, no hard feelings.)
Communications
We used our regular T-mobile US service plan, which now includes international data roaming (not voice calls) for free. Since they have to pay for text messages, most people in Spain use WhatsApp, which is a text messaging application you can download to your phone, which is how I communicated with Ken. It was also great to have the phone for directions.
To clarify a misunderstanding: We are back at home now, so we can't visit you if you are in Europe. I was too lazy / didn't have time to do much blogging while traveling. Also we had only two power converters, which were used mostly to charge our phones, so the computer was dead most of the time. Being 2/3 of the way to a senior citizen, I can't type with my thumbs.